---
---
Known for his colourful and high-energy abstract painting, it's no surprise the Mount Lawley home Waldemar Kolbusz shares with his partner, artist Mal Harry, embodies exuberant joie de vivre.
Restormel, built in 1908, sits amidst residential and commercial buildings, just a hop, skip and a jump from bustling William Street and Waldemar's new studio and gallery, Kolbusz Space in Claisebrook.
"When I first saw the house, it was lots of ad-hoc additions and sections that had been added over the years that needed methodical work to fix it up and renovate it properly," he says. "The original part of the house was well preserved and grand, and the whole place had a great lived-in feel. Nothing was perfect, though, and I liked that."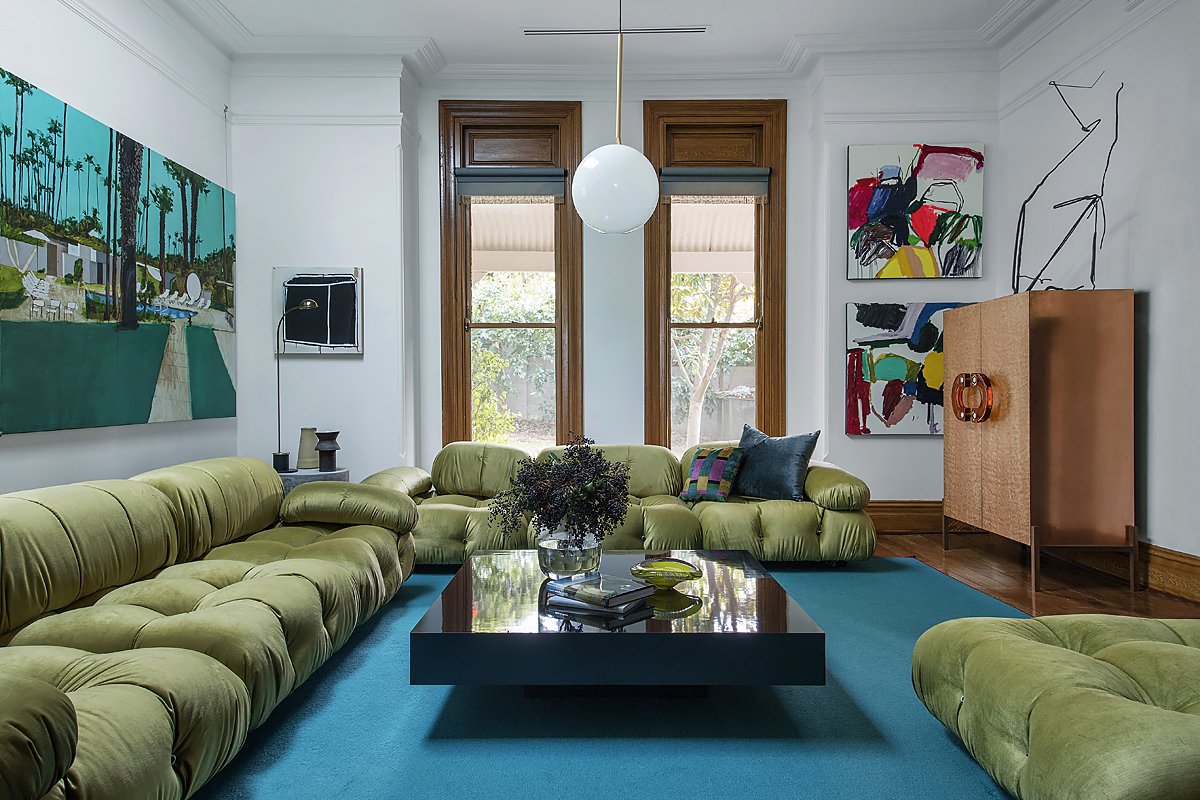 ---
With the goal to only replace what was broken and preserve what others had added, Waldemar designed an additional living area that is adjoined but separated from a new art studio. The existing bathrooms were redone, and the kitchen was given new life by family cabinet maker A&J Filipek, who also did most of the joinery in the house. "All the materials used are traditional- nothing too fancy!" he says. Outside, the gardens and outdoor living spaces were overhauled so as to connect better with the house. "I don't like planning too much or to have a set idea on an outcome," he says. "I like to let things evolve, which is much easier with a renovation than a new build, of course."
Giving new life to a home that has had many requires creative miscellany and a palimpsest of personal treasures and furnishings mesh effortlessly with more contemporary finds. "We are both artists and enjoy travel and collecting stuff, so the house reflects this," he says. "I'm not precious about the interior. Things, furniture and art, get moved around all the time."
---
The home is warmly furnished with low-key yet comfy furniture. A green velvet-covered Camaleonda modular sofa by B&B Italia anchors the living space, and a simple glass dining table is surrounded by 1970s chairs designed by Willy Rizzo, an iconic Italian photographer and furniture designer. In the sitting room, an old Code Red sofa upholstered in black and white geometrics nestles next to a fireplace along an old coffee table and 70s Maralunga armchairs.
Touches of style and whimsy are to be found throughout, ranging from iconic light fittings by Michael Anastassiades and decor from Mobilia to Cambodian ceramics, vintage Murano glass lamps, and a buffet snagged on 1st Dibs. "I try not to have an idea of what I think will work, but just try new combinations," he muses. "It makes it less stressful when you have lower expectations, but also makes for more interesting spaces where people feel more comfortable."
---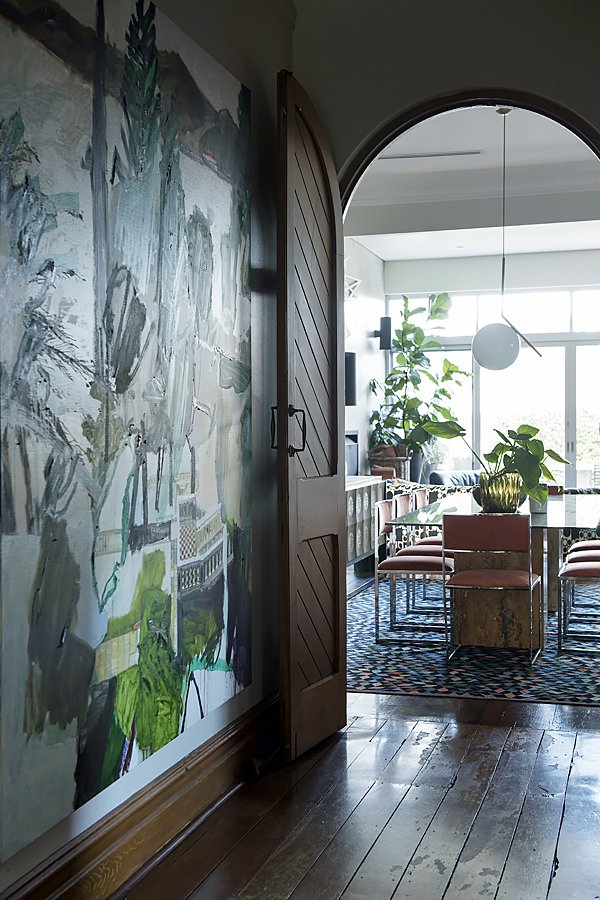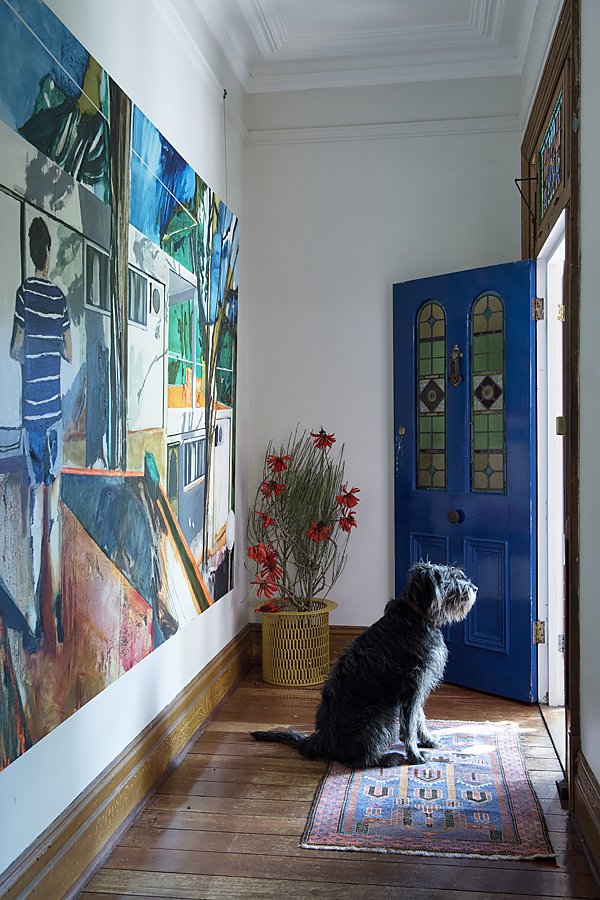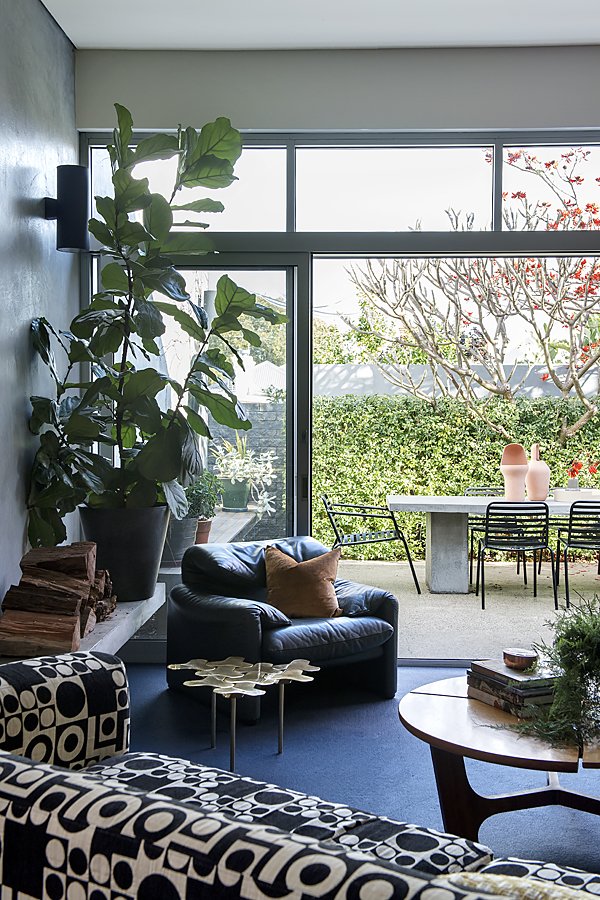 ---
Each space's eclectic mix is leavened with a vast collection of artworks by Waldemar and his friends and peers like Sally Gabori, Rhys Lee, Abdul-rahman Abdulla and Rachel Coad. "Art is my career, and I have a gallery, so I make sure I am open to as many genres as possible," he says. "We painted the walls to show off the art, and I am always happy to try new things and repaint again."
Colour indeed dominates throughout, introduced fearlessly yet with restraint. The living room's beguiling palette of lime and teal takes its cue from the vibrant paintings that hang on the walls, and in the bedroom, deep blue walls meet wide sage green cornices that are tempered by worn timber floors, doors and architraves.
---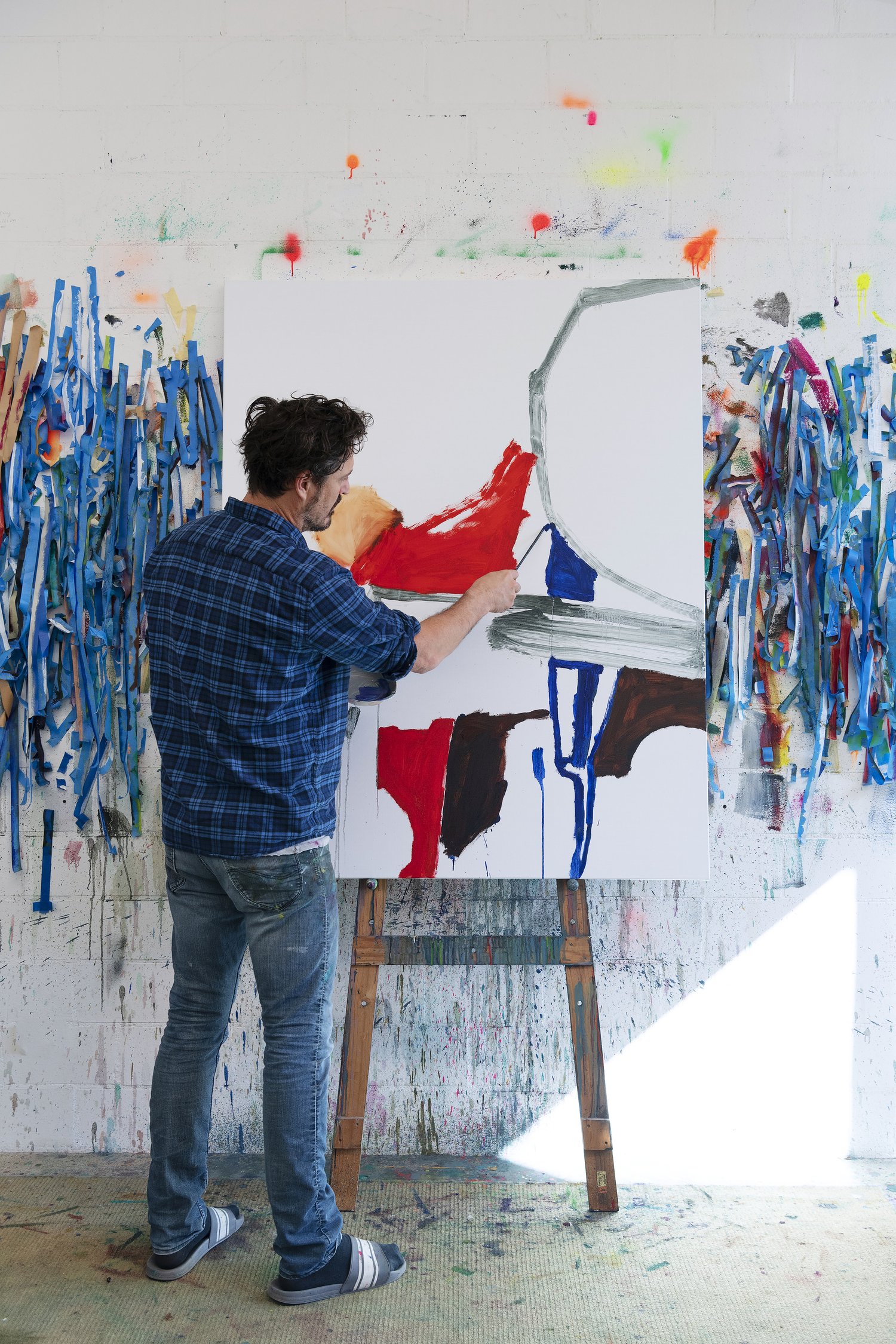 ---
On the house's exterior, raw concrete walls serve as a canvas for scattered potted succulents, a hedge, a fiery Illawara Tree and sculptures by Ayad Alqaragholli.
A warm mix of art and furnishings with wide-ranging periods and provenance make for a home that is as exciting as its owner's artworks. "It is a privilege to live in this house and add to what all the previous owners have contributed to it," he says. "It's a house that is dependable and feels like an old friend who challenges and also calms."
You can see more of Waldemar's work at his upcoming exhibitions. Sydney Contemporary Art Fair with Gallerysmith Sept 8-11, 2022 and Open Studio – KolbuszSpace Perth Sept 23-25, 2022.
---
The Creative Life
A day with Waldemar Kolbusz
4.00 – 5.00am I wake up. I know it's too early, but it's a habit I don't try too hard to change. My friend Gail told me to do breathing exercises, but they don't work for me; it just makes me think of Gail a lot first thing. My dog is usually asleep on the floor, and listening to her and Mal's deep-sleep breathing is my favourite sound in the world.
6.00am Either gym, yoga, walking the dog around the East Perth bridges or People's Cafeteria in Northbridge for breakfast. Today I watched Rage because it's good to mix things up. I'm so glad I am growing older – I like to announce something big to myself early on and see how it fits by the end of the day.
7.00am Coffee and emails. I plan the day around who I'm meeting with and upcoming exhibitions – either my own or someone else's at KolbuszSpace. I try and tick off anything too outstanding, and I do not do more than I need to – just enough to feel organised and on top of things. I've learnt to roll with tasks and not pretend I can be in control of them all.
10.00am I am at KolbuszSpace, and ideally, I stay here for most of the day. I try to sort my days between the gallery and the studio, and if I am painting, I try and have a day away from meetings. If I am meeting with an artist about their exhibition, installing an exhibition for them, or showing works to collectors, I usually don't paint. Gallery person hat and artist hat are very different; however, they overlap when I meet with artists. Talking artist to artist is my favourite – you get to delve deep, be critical and vulnerable, and express opinions. Gallery person to artist is more career-practical: you listen a lot, support them, ask how deadlines are going, whether they are eating, and get them to trust you with the installation.
I paint at least every second day, but before a solo exhibition, I paint daily for at least a month. I can't trust myself with new ideas at this late stage in case they overturn everything, so I need to stay busy. I delude myself for a while that my very existence depends on my paintings, and I must deliver – it's stressful. Still, the adrenalin is addictive, and I get things done.
6.00pm Dog walk, maybe drink, yes drink, practical dinner discussions and mood identifying time – stay in, go out, invite people over, get loose.
10.30pm Depending on the previous time slot. Jonathon Ross once said the 'ta-dum' when you turn Netflix on is the sound of his and his wife's heads hitting the pillows on the couch asleep. Haha – love when this happens.
---
`